Natasha Dugan

Natasha Dugan

Name:

Natasha Laura Dugan

Codename:

Hack

Hometown:

Portsmouth, New Hampshire

Relationships:

Benedetto Baldino (Boyfriend), Alain DuBois (Ex-Boyfriend)

Team:

X-Men
Natasha Dugan is an X-Man in the Lovelyverse RP
Appearance
Edit
Natasha is 5'10" and 146 lbs. She has light blue eyes and long brown hair that falls to the middle of her back and she usually wears it pulled away from her face.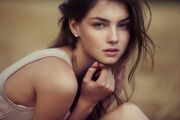 Personality
Edit
Relationships
Edit
Natasha is often amused that she finds herself in the surrogate mother position.
Ad blocker interference detected!
Wikia is a free-to-use site that makes money from advertising. We have a modified experience for viewers using ad blockers

Wikia is not accessible if you've made further modifications. Remove the custom ad blocker rule(s) and the page will load as expected.